Our Products

Our products are internationally recognized, contributing towards the continual expansion of our client base. Our innovative products have always kept up with the ever growing market demands.

3D Dispatch Engine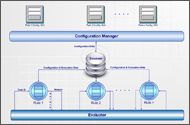 The 3D Dispatch Engine is a rule based decision making engine that can make dispatch decisions based on not only staff and vehicle but also on other factors.
The Three dimensional factors include the following:
Operational Procedures of the Company
Assigning of cases to staff on equality bases, i.e. too many or too few cases should not be assigned to a staff member
Assigning of Unsociable hours' tasks to Male staff only
Traffic load in an area on specific days and/or times
Type-of-vehicle restrictions in specific areas
Assigning of cases to paramedics more relevant to those cases based on their competencies
The system evaluates the feasibility of a resource and provides recommendations with concrete reasons. However the final decision will be made by the human dispatcher based on the situation. With this, CAD is capable of providing a facility to plug and play new Decision Making Rules without affecting the existing components of the system.