Our Products

Our products are internationally recognized, contributing towards the continual expansion of our client base. Our innovative products have always kept up with the ever growing market demands.

BizNav ®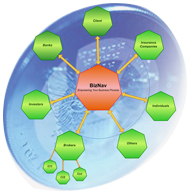 BizNav is a hi-fi business application that deems to be the panacea of all financial problems. It fulfills the high-level requirements of business and is equally beneficial for an individual running confined business or an enterprise having multiple Business. It works on centralized data management phenomenon and is comprised of different useful modules that cover most of the business needs of modern era.
BizNav belongs to CRM (Customer Relationship Management) family, so it mainly revolves around hefty business sectors. It is the combination of different useful modules that have been developed keeping in mind all the possible requirements of business organizations. Special considerations were made to promote customization phenomenon throughout the application, to cope augmenting requirements of the business communities, which makes it more adoptive than currently available software packages in the market.
By using BizNav , organizations can manage their staff/ clients' profiles, appointments, contacts, tasks/ activities, manual and electronic correspondence and can even define their respective business process by their own. There is also a developer studio through which the admin users can design customized forms (according to the requirement) and rules (on fields' level) and can associate both to define system flow, and can experience height of customization practically.
BizNav entails the functionality to define and control the actual business process of any organization. Users' management module provides the provision to create multiple numbers of users with customized roles and privileges that may login from any client system and can perform their respective tasks. The idea behind conceiving this system is to maintain a central repository for all the activities performed at client level to ensure data security.
Moreover, all the functionalities of the system are available to the end users with majestic user interface, hence providing the organizations a smart way to give their business a leveraging boost from all managerial aspects.