Our Products

Our products are internationally recognized, contributing towards the continual expansion of our client base. Our innovative products have always kept up with the ever growing market demands.

Fleet Management System (FMS)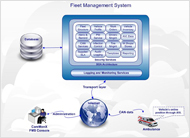 Fleet Management System is a SOA based application that manages whole fleet along with vehicle information, service history, fuel and maintenance expenses, and manages your preventive maintenance. It is one of the inherent components of CareMonX™ Admin application and works on the same architecture.
The function of Fleet Management System (FMS) is to assist admin in managing the maintenance of fleet of company's vehicles or other mechanical assets. Although the focal point is maintenance, specifically preventive maintenance but FMS goes well beyond that to include useful features.
The major features of FMS are as follows.
Managing company information and their default values
Managing Vehicle categories and assigning templates
Creating Templates which includes:
PM services template
CAN Data template
Inspection template
Managing Work Orders
Tyre Management
Managing Alerts and Reminders
Managing Daily Inspection checklist and its alerts
Managing driver's licenses and certifications
Route and fuel logging
Managing disinfection