Our Products

Our products are internationally recognized, contributing towards the continual expansion of our client base. Our innovative products have always kept up with the ever growing market demands.

ICCert ®
ICCert is F3's online training and examinations platform. It is an intuitive easy-to-use system enabling flexible content creation and authoring of questions in a multimedia environment. It supports multiple part exams and a comprehensive range of question weighting and marking structures.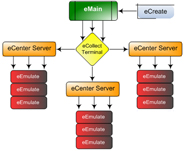 ICCert is comprised of five modules that collectively presents a layered architecture, the modules are: eCreate, eMain, eCollect, eCenter and eEmulate. To ensure data integrity and seamless conduction of the examination all these modules work from remote locations in a collaborative manner. The modules can also be accommodated in two packages, which are:
Management Suite which contains management modules like:



eMain
eCollect
eCenter


Test Engine , which contains the core test engine :



eCreate
eEmulate
ICCert is fully XML based and encrypts designated files to retain secured data transmission on the network. It overcomes many of the limitations of existing online examination systems by offering examiners an ability to easily and dynamically create online examinations 'on-the-fly', contrasting sharply with most existing systems which tend to be hard-coded and inflexible.
ICCert has been designed to conform to SCORM standards and has its own in-built learning management system (LMS) module. The online examination environment is extremely secure, using PKI encryption standard