Our Products

Our products are internationally recognized, contributing towards the continual expansion of our client base. Our innovative products have always kept up with the ever growing market demands.

Lone Worker Alarm & Protection System (LWAS)
Lone Worker Alarm & Protection System (LWAS) is an SOA based application induces the concept of security measures in the scenarios where someone works without a nearby colleague; or when someone is working out of sight or earshot of another colleague. Lone working is not unique to any particular groups of staff, working environment or time of day.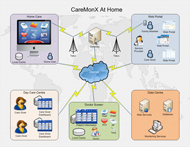 LWAS works on three levels of priority based risks revealing the workers' statuses visually. It allows registration of workers on individual as well as on team basis and enables the operators to schedule and reschedule their tasks as per changing runtime requirements. The built-in rule defining component facilitates the operators to automate the decision making process on the basis of geo fencing and certain other parameters.
Although LWAS is a stand-alone application but it is also a logical extension of CareMonX™ CAD system thus provides sense of security and protection to worker providing medical assistance to patients either in ambulance, home or in hospital. It can also be used in other fields other than medical.
LWAS enables the administration to cope critical and emergency circumstances comprehensively i.e. provides information about workers' current status and their preferences that enables operator to contact with the designated personnel through specified contact mode i.e. Phone call, SMS, Email etc.
It fulfils the growing requirements for data analysis and reporting for operational purposes and for identifying opportunities to improve the service quality and performance.
The scope of CareMonx™ LWAS application involves proper management of workers' and team profiles, preferences, contacts along with their priority and mode of contact in case of emergency, tasks, status based on configurable operating and geo fencing instructions.