Our Products

Our products are internationally recognized, contributing towards the continual expansion of our client base. Our innovative products have always kept up with the ever growing market demands.

Major Disaster Information System (MIDS)
Major Disaster Information System (MIDS) allows visual sketching of incident locations on GIS based maps. The iconic sketching has been provided with layering facility, enabling you to power spotting the target area by using free hand and object based selections. MIDS is capable enough to receive information electronically via Sensors, GIS, CCTV, SMS, Voice, Images, Videos, Media Responses, etc and transmit it over the network.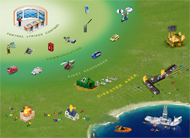 The whole set of information when saved corresponding to any obtrusive event, is stored in XML format, and can be read through an inbuilt editing tool in its original form. Furthermore, the application also allows you to plan and define workflow for resources to pursue the rescue operations in the light of live weather updates.
In general MIDS includes several features which are as follows:
Map division to divide the cities into small sectors and regions
Map drawing tools allows free hand drawing, sketching on maps, text writing etc
Weather Forecasting is available to view live weather forecasting around the clock
Photo Gallery interface to maintain the pictures of incidents that can be used when required
Video gallery is provided to maintain the video gallery and folders according to the particular incident, city and place
CCTV coverage to view close circuit cameras with customizable view of different cameras
Proper management of resources like fleet, manpower, equipments, medicines etc
Message Alert System to send an availability message to different resources, departments and organizations
Workflow designed allows disaster manager to define the workflow and guidelines for the incident
Document attachment and Email facility is provided
Municipality data management for better rescue operations
Graphs are available to display the status of the available and required medicines in case of any incident
Html Reports can be derived on customized basis