Our Products

Our products are internationally recognized, contributing towards the continual expansion of our client base. Our innovative products have always kept up with the ever growing market demands.

Promms ®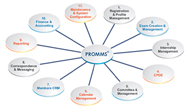 PROMMS is a Microsoft .NET platform certified product. It has been developed in C# and leverages Microsoft .NET technology on Windows Server 2003 and SQL Server 2005. Its services-oriented architecture (SOA) supports SAML or any token-driven single sign-on service. All internal application programming interfaces are based on WSDL and run over IIS6. The system is fully scalable and as a pure .NET system, it offers easy localization and supports all usability features that are offered by the Windows XP working environment.
PROMMS is a comprehensive Professional Membership Management System built to address the complex and dynamic membership requirements of professional medical institutes, statutory registration bodies and healthcare organizations. For enterprise users, the system has a desktop thin client, while for member client interaction; it has a comprehensive browser-based interface. The interface has been designed to simulate the Office 12 GUI for optimal user experience.
PROMMS reflects F3 Technologies in-depth understanding of the demands that changing membership, compliance and continuing professional development trends present for the education, certification, in-service training and continuous monitoring of work experience and competence of medical and allied healthcare professionals.
PROMMS provides users with sophisticated tools to manage their interaction with members at various levels, ranging from registration/ accreditation to in-service skills testing, and from professional experience monitoring to complaints management and disciplinary measures.
PROMMS is designed on a modular structure for easy configuration and customization to meet the varying requirements and structures of healthcare career lifecycle management. Each module has a number of independent functional components that support flexible customization to suit an organization's particular needs.