Our Products

Our products are internationally recognized, contributing towards the continual expansion of our client base. Our innovative products have always kept up with the ever growing market demands.

Vivasta ®
Vivasta™ is an advanced interactive touch screen system designed for use by patients and individuals who require support at home. In addition to facilitating continuous 24/7/365 communications with care teams and family members, the touch screen system integrates with vital life signs devices and other electronic healthcare equipment in the home. Healthcare data generated by home-based devices is transferred to care monitoring centers, while either monitoring centre staff or at-home patient can send alerts to the Patient Transport Dispatch system, simply by touching a button.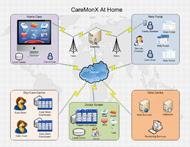 Vivasta™ is designed to be complemented by continuous two way monitory and response services staffed by experienced clinical and care personnel, offering users the comfort that help, If needed, is always close at hand. The system facilitates integration with existing home healthcare devices and alarm monitoring services, providing a seamless single services gateway for users.
It is a modern means of independent living for individuals who require assistance in their normal home environments. Using an intuitive simple-to-use interactive touch screen, individuals at home can avail a suite of health and social care services ranging from access to care teams to communications with family members and friends.
Vivasta™ utilizes very fast latest communications and software technologies to enable users to directly participate in the management of their home health and social care requirements. The system also facilitates participation and integration of designated family members and care givers in the management of an individual's condition and needs. Thereby, providing complete assurance and peace of mind to users (senior citizens).