News & Events

At F3 Technologies we encourage our staff to attend local and international events to enhance their knowledge and skill base in the area of IT. We also facilitate local events and activities for our staff and their families.

F3's 17th Anniversary and "Above the Best Awards 2016" ceremony
Tuesday 29th March 2016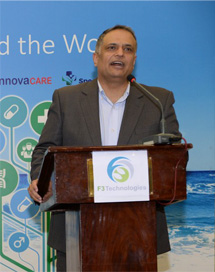 F3 Technologies celebrated two auspicious events on Monday 14th March 2016 in the Crystal Hall, Rawalpindi, Pakistan.

Firstly F3's 17th Anniversary and secondly the "Above the Best Awards 2016" ceremony.

Ms. Samia Fayyaz the Master of Ceremony welcomed everyone and Dr. Javad & Mrs. Javad were received as the Guests of Honor by the Reception Committee Ms. Anita, Ms. Neda and Mr. Junaid. After the national anthem and the recitation of the Holy Quran by Mr. Shahid Khan a video of collated felicitations by the company's global clients and F3/VT colleagues working abroad was shown to the audience of over 200 staff, spouses and children.

F3 Technologies takes great pride in recognizing the services of its employees and rewarding them by offering both incentives and acknowledgements through the "Above the Best Awards" initiative.

Ms. Samia announced the nominations for all categories and Mr. Rameez supported the process by assisting Dr. Javad who personally congratulated the winners with their respective awards, cash prizes and certificates. This year the awards were given in 8 categories. The number of prizes were increased in each category and four consolation prizes were selected by Dr. Javad and received due acknowledgement.

The nominees and winners in each category are as follows:
Above the Best Support Engineer



Nominations:

Nasir Yaseen
Bushra Shiraz

Winners:

1st position: Nasir Yaseen
2nd position: Bushra Shiraz
Above the Best QA engineer



Nominations:

Neda Qamar
Anita Aftab
Hammad Riaz

Winners:

1st position: Neda Qamar
2nd position: Anita Aftab
3rd position: Hammad Riaz
Above the Best DBA



Nominations:

Nadeem Ahmed
Rizwan Shehzad
Abdur Rehman

Winners:

1st position: Nadeem Ahmad
2nd position: Abdul Rahman
3rd position: Rizwan Shahzad
Above the Best Software Engineer


Nominations:

Aneel Maqsood
Umar Zaman
Syed Ali Haider Rizvi
Fahad Jameel
Murtaza Naveed
Azam Khan
Hammad Shahid
Usman Asghar
Muhammad Usman
Muhammad Riaz
Farrukh Niaz
Asim Javed
Shahzad Riaz
Usman Khair
Shahzeb
Jahangir Haider
Kamran Shargill
Maraj Ahmed
Nouman Azhar
Qamar Munir
Zeeshan Yawar

Winners:

1st position: Azam Khan, Muhammad Usman and Jahangir Haider
2nd position: Murtaza Naveed, Hammad Shahid and Muhammad Riaz
3rd position: Umar Zaman, Usman Asghar and Asim Javed
Above the Best Project Lead



Nominations:

Imran Khan
Syed Mohammed Ashraf

Winner:

Imran Khan
Above the Best Team Lead



Nominations:

Asif Rauf
Abdul Basit Hammad

Winner:

Aisf Rauf
Team Lead Above the Best Team



Winner: Talha Bilal
Above the Best Team



Winner: Spectrum-NTS
Consolation Prize Winners awarded by Dr. Javad:
Arshad Ali
Farrukh Imran
Abdul Rauf
Muhammad Yusuf Usmani
After the award distribution Dr. Javad addressed the audience and thanked Brig. Zulfiqar for his leadership and guidance. Dr. Javad also thanked his mother Mrs. Zulfiqar and his family for their ongoing support. Dr. Javad highlighted recent milestones that the company had achieved globally and shared the challenges ahead as the company continues to grow in strength. He thanked all staff for their hard work and loyalty to the company which has a reputable standing on the global information technology platform. Dr. Javad thanked Mr. Saeed Aktar (Director Project) for his ongoing support and leadership in the Rawalpindi offices.

At the end of the function a video was shown featuring the F3 Team Leads and their staff. A sumptuous dinner followed and all children received a gift much to their delight!

A special thank you to all the administration staff (Ms. Sanober, Mr. Zeeshan, Ms. Robina, Mr. Qasim and Mr. Adeeb) for their contribution in staging the event; Mr. Temoor (for his professional guidance with the event logistics); Mr. Junaid (for his photography) and all staff who helped to make this special occasion a memorable one including Mr. Iftikhar and his band for their live music.