Our Products

Our products are internationally recognized, contributing towards the continual expansion of our client base. Our innovative products have always kept up with the ever growing market demands.

Airport Dispatch System
Airport Dispatch System is particularly designed to provide the medical services or assistance to the patients with in the airport premises in case of both emergency and non-emergency situations. An emergency care system is available to ensure the public safety. It provides interfaces so that the dispatcher can handle calls-for-services as efficiently as possible and can maintain the status of task at each stage. Call takers sitting in control room receives calls for emergency and records the necessary information of the patient and intimates the dispatchers. Later on dispatcher dispatches the task to best suited paramedic depending on his expertise, availability and location. Services can be provided to the patients either on the incident location or if required they can be transferred to the medical center located inside the airport.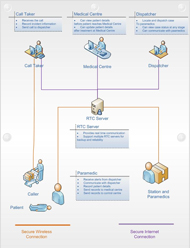 Airport Dispatch System facilitates dispatchers in identification of incident location correctly, dispatching task to best suited team that ensures the in time availability of services to patients. This system not only improves the dispatching process but also help the management to maintain the reports and records of patients at any stage.
System provides several attractive features, which are:
Record newly received calls
View history and status of calls
Locate and dispatch paramedics from best suited stations
Keep map of airport and locate incidents on map
Generate reports
Create, view, modify, and delete stations and paramedics
Facility to transfer patients
Create and maintain paramedics duty schedule
Provide online facility for patients to have details of treatment provided at airport
Keep record of stations and paramedics
Locate and view status of paramedics
Online interface for repatriation booking